The Keble Early Music Festival will run from 23-26 February 2022.
---
WEDNESDAY 23
6pm Festival Evensong
A service to open the 2022 Keble Early Music Festival, sung by The Choir of Keble College, with music including Purcell's Evening Service in G minor
7:30pm Blackadder Baroque Brass
A European Baroque Fantasia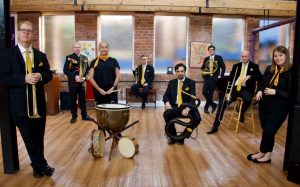 Blackadder Baroque Brass was created by David Blackadder in 2021 bringing together a unique formation of period brass players to reimagine baroque music in a new and innovative way.
By combining 4 Natural Trumpets, 4 Natural Horns, 4 Cornetts, 4 Sackbutts, a Serpent, Baroque Timpani and Percussion, a new eclectic sound world, with an array of textures and colours has been unleashed on the world of Early Music.
With a selection of stunning new specially commissioned arrangements by some of the world's leading brass arrangers, Blackadder Baroque Brass will be playing some incredible music that has never have been heard in this way before.
Tickets: £30/£20/£10 students/18 and under free [Book now]
---
THURSDAY 24
3pm The Henry Ley Singers
The Lay Clerks and Graduate Choral Assistants of The Choir of Keble College perform a recital of music from the 16th and 17th centuries
Admission free – retiring collection
8pm Transforming Rameau
Edward Higginbottom (organ)
Holly Teague (soprano)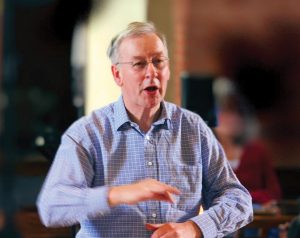 An Eighteenth-Century Divertissement in Four Acts:  Nature –  Fête Champêtre – Sentiments Tendres – Les Exotiques
Jean-Philippe Rameau's celebrated pièces de clavecin reworked for the grand orgue, deliciously blended with soprano solos from Les Indes Galantes as arranged by the composer in his keyboard collection of 'quatre grands concerts' of 1735.
Tickets: £15/students free [Book now]
The programme forms a prelude to Compline by Candlelight at 9pm, sung to plainchant by The Choir of Keble College
---
FRIDAY 25
7:30pm BBC Singers
conducted by Sofi Jeannin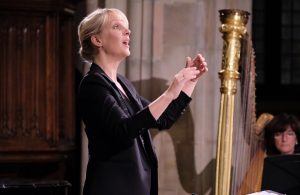 Reimagining Early Polyphony
Chief Conductor Sofi Jeannin directs the BBC Singers in an intriguing programme pairing Renaissance works with contemporary pieces based on them.
Tallis: Loquebantur variis linguis
Ken Burton: Many are the wonders
Sheppard: In manus tuas 3
Josephine Stephenson: Into thy hands
Victoria: O vos omnes
Reena Esmail: When the violin
Sweelink: Je sens en moy une flamme nouvelle
Nico Muhly: A New Flame
Sheppard: The Lord's Prayer
Owain Park: The Lord's Prayer
Byrd: Ave verum corpus
Roderick Williams: Ave verum corpus Re-imagined
Janequin: Le chant des oiseaux
Bernard Hughes: Birdchant

FOR BROADCAST ON BBC RADIO 3
Tickets: £40/£30/£10 students [Book now]
---
SATURDAY 26
7:30pm Purcell: Dido & Aeneas
Carolyn Sampson (soprano)
Roderick Williams (baritone)
The Choir of Keble College
Instruments of Time & Truth
Daniel Greenway and Daniel Mathieson (organ)
conducted by Paul Brough
Purcell: Thou knowest, Lord, the secrets of our hearts
Purcell: O God, thou art my God
Purcell: Hear my prayer, O Lord
Purcell: Voluntary for a Double Organ
Blow: Salvator mundi
Purcell: Remember not, Lord, our offences
Purcell: I was glad
Purcell: DIDO & AENEAS
For our closing concert we are thrilled to be joined by international star soloists Carolyn Sampson and Roderick Williams for a concert performance of Purcell's Dido & Aeneas.
Tickets: £40/£30/£10 students [Book now]
See all Events