Outreach and Open Days
Working with pupils
We want to attract the best and brightest students – regardless of background – to apply to us. We want to make sure that when people are thinking of applying to University they have all the information they need.
Our access and outreach team work with schools, teachers and partner organisations – including The Access Project, the Brilliant Club, Oxford Pathways, Target Oxbridge and UNIQ – to widen participation to the University.
In 2018, over 3,700 people came with school trips to Keble and we interacted with 700 more in outreach activities in schools. If you want to arrange for someone from our team to visit your school or organise a school visit to Keble please contact Nicole Boothman, the Outreach Officer.
Each Oxford college is linked to a Local Authority to ensure that all schools have a first point of contact within the University. Keble is linked with Birmingham, Sandwell, Solihull, Coventry, and Warwickshire. If you are a teacher or a Careers Adviser in any of these areas, please feel free to contact us about arranging school visits or other outreach activities. We're most suited to working with secondary school and sixth form groups.
Open Days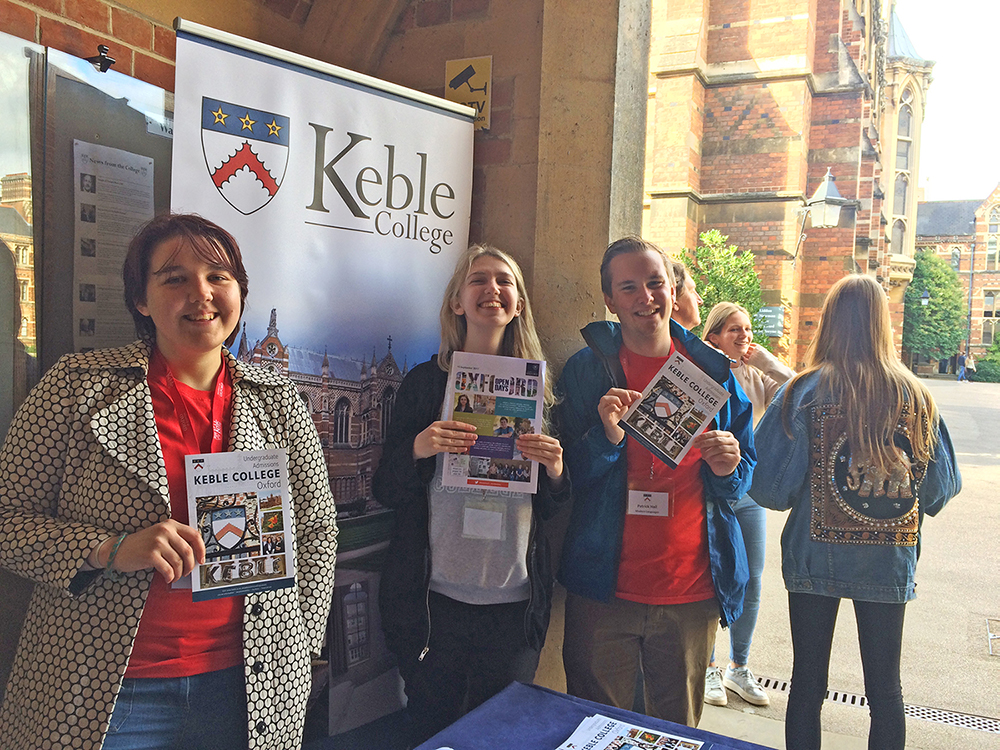 There are three Open Days each year – coinciding with the whole University – when you can discover more about Keble, get tours from our current students and meet tutors at subject sessions. In 2019 the dates are:
Wednesday 3 July

Thursday 4 July

Friday 20 September
provisional programme

Travelling from far? You can book to stay in College the night before an Open Day.
Would you like to attend an Open Day but are worried about the cost of getting to Oxford? Here at Keble we have some funding available to those who might otherwise be prevented from coming. Please email us to find out if we can help you.
Follow us on Twitter @KebleOutreach. Or get to know our students by following 'Keble at Large', our student-run outreach society, on Facebook and Instagram at kebleatlarge.