Supporting Keble
Your support is vital
We need your help to ensure that Keble can continue to offer world-class teaching and research, and to enable every Keble student, no matter what their background, to flourish.
We rely heavily on our alumni and friends to support projects large and small. With your help, we can provide an outstanding educational experience for some of the world's brightest minds for generations to come.
With the College turning 150 years old in 2020, there's never been a better time to give. Find out more about our current fundraising priorities and how to make a donation. Be part of our 150th Anniversary Campaign and sponsor your College room.
Our fundraising priorities
An undesignated gift will help us to fund areas of greatest need, but you can also direct your donation towards one of our fundraising priorities. You can find out more about each one on our Campaign website.
➤Student support including bursaries, scholarships, and outreach
➤Teaching and research
➤Music, sport, drama and societies
➤Buildings, gardens and facilities
How to make a donation
There are lots of ways to support Keble, and all donations, big or small, make a significant difference to us.
Whether it's a regular monthly gift online, or perhaps you're thinking about including Keble in your will, or you've moved overseas and need a new way of transferring funds, or you're thinking about a tax-efficient gift to the College, we can help.
➤Make a gift online via our Campaign website 
➤How to Make a Gift (pdf)
➤Tax-efficient Giving (pdf)
Give via The Talbot Fund
Our annual fund gives everyone the chance to contribute to Keble by making single or regular donations. If you were a student here in the last 10-20 years chances are you benefited directly from the Talbot Fund through the tutorial system and clubs and societies. It also helps to support people in the early stages of their professional academic careers, fund visiting scholars and maintain the unique fabric of our College. And it funds our access and outreach work to encourage the brightest students to study here, regardless of their background.
Over half of our alumni have contributed to the Talbot Fund at some point, and nearly a quarter are currently making regular donations. The generosity of our alumni and friends makes our annual fund one of the most successful in Oxford, and provides us with a dependable and significant income stream of over £1 million per year. You can see examples of the work of the Talbot Fund here.
Create a Room History
With a donation of £2,500 (£2,000 plus gift aid) to any area of the Talbot Fund, you can add your name, subject and matriculation year to a plaque outside your old College room. Donations can be made as a single gift or spread over time. We're creating a social history of the College, room by room, but it's up to you where your money goes. Can't remember your room number or think it might have changed? Use our room finder on the Campaign website.
Leave a gift in your will
Writing your will and thinking about how to allocate your assets is a significant and important decision. In addition to making a lifetime donation via the Talbot Fund, by remembering Keble in your will you can make a lasting contribution for generations to come. All those who have told us that they intend to leave a gift in their will can join the Douglas Price Society, members of which are invited to an annual event in College.
As an exempt charity, the College pays no tax on gifts of money or property bequeathed in a legacy. This method of giving also has Inheritance Tax benefits for the legator. If you would like information about leaving a legacy to Keble and the related tax benefits involved in doing so, please get in touch.
Make a Major Gift (>£10,000)
If you are in a position to make a major gift of £10,000 or more, please get in touch with Jenny directly so that we can guide you through the process. Major gifts can be spread over a number of years and we are pleased to work with donors to find the most tax-efficient mechanism, wherever you may be in the world, be it a transfer of funds or a gift of shares.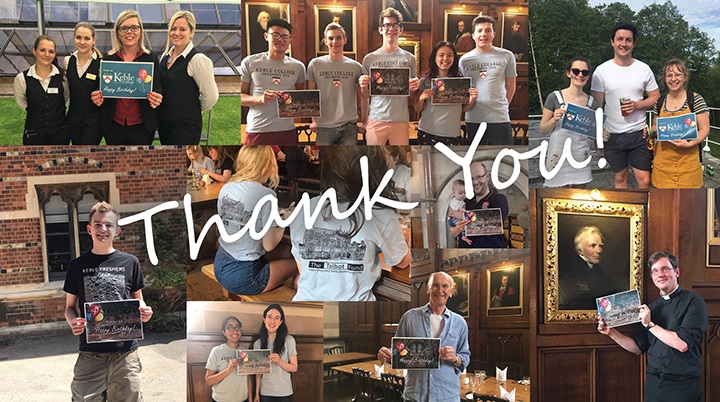 Thank you to all those who have made a contribution to Keble; your ongoing support is greatly appreciated and enables us to plan ahead with confidence. If you have any feedback or suggestions regarding our fundraising please contact Jenny.
Keble College is registered with the Charity Commission and our Charity Registration number is 1143997.