Outreach and Open Days
Working with pupils
We want to attract the best and brightest students – regardless of background – to apply to us. We want to make sure that when people are thinking of applying to University they have all the information they need.
Our access and outreach team work with schools, teachers and partner organisations – including The Access Project, the Brilliant Club, Oxford Pathways, Target Oxbridge and UNIQ – to widen participation to the University.
In 2018, over 3,700 people came with school trips to Keble and we interacted with 700 more in outreach activities in schools. If you want to arrange for someone from our team to visit your school or organise a school visit to Keble please send an email to outreach@keble.ox.ac.uk.
Each Oxford college is linked to a Local Authority to ensure that all schools have a first point of contact within the University. Keble is linked with Birmingham, Sandwell, Solihull, Coventry, and Warwickshire. We are also pleased to be working with Oriel and University Colleges as part of Oxford for West Midlands. If you are a teacher or a careers adviser in any of these areas, please feel free to contact us about arranging school visits or other outreach activities. We're most suited to working with secondary school and sixth form groups, and prioritise working with non-selective state schools.
You can find out more about our access and outreach activity in our annual report.
Follow us on Twitter @KebleOutreach. Or get to know our students by visiting our Keble Access YouTube channel, and by following 'Keble at Large', our student-run outreach society, on Facebook and Instagram @kebleatlarge.
Our students have also put together an alternative prospectus (pdf), full of first-hand insight into what life at the college is like.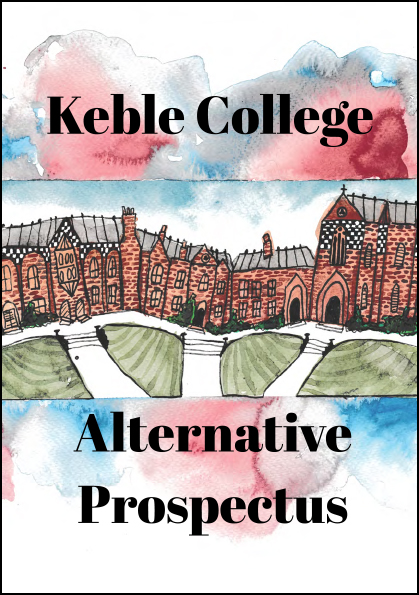 Open Days
There are three Open Days each year – coinciding with the whole University – when you can discover more about Keble, get tours from our current students and meet tutors at subject sessions. In 2021 the dates are:
Wednesday 30 June

Thursday 1 July

Friday 17 September
We usually offer financial support for young people who want to attend an Open Day but are worried about the cost of getting to Oxford. Due to current circumstances, the Open Days in 2021 will take place online so we will not be running the travel scheme this time round. We also typically offer accommodation free of charge for prospective applicants travelling long distances, but again this is unfortunately not applicable this year.
Our Open Day prospectus brochure is available here (pdf).
Access and Outreach Events
Face-to-face outreach events at Keble and in our link areas have been on hold since March 2020. We are hoping to reinstate events like these at some point during the 2021-22 academic year, but are anticipating that this will not happen before January 2022. We are currently offering virtual talks and sessions for eligible schools, and will launch this programme formally during autumn 2021. In the meantime, if you would like to find out about booking a virtual talk or to join our link schools mailing list, please send an email to outreach@keble.ox.ac.uk.
School students aged 13+ can now chat online directly to our student ambassadors using a safe and monitored platform.