Outreach and Open Days
Working with pupils
We want to attract the best and brightest students – regardless of background – to apply to us. We want to make sure that when people are thinking of applying to University they have all the information they need.
Our access and outreach team work with schools, teachers and partner organisations – including The Access Project, the Brilliant Club, Oxford Pathways, Target Oxbridge and UNIQ – to widen participation to the University.
In 2018, over 3,700 people came with school trips to Keble and we interacted with 700 more in outreach activities in schools. We have already engaged over 2000 people with our virtual events and initiatives during the 2021-22 academic year, and are looking forward to welcoming school groups back to Keble soon. If you would like to know more about Keble's Access & Outreach programme please send an email to outreach@keble.ox.ac.uk.
Each Oxford college is linked to a Local Authority to ensure that all schools have a first point of contact within the University. Keble is linked with Birmingham, Sandwell, Solihull, Coventry, and Warwickshire. We are also pleased to be working with Oriel and University Colleges as part of Oxford for West Midlands. If you are a teacher or a careers adviser in any of these areas, please feel free to contact us about arranging school visits or other outreach activities. We're most suited to working with secondary school and sixth form groups, and prioritise working with non-selective state schools.
You can find out more about our access and outreach activity in our annual report.
Follow us on Twitter @KebleOutreach. Or get to know our students by visiting our Keble Access YouTube channel, and by following 'Keble at Large', our student-run outreach society, on Facebook and Instagram @kebleatlarge.
Our students have also put together an alternative prospectus (pdf), full of first-hand insight into what life at the college is like.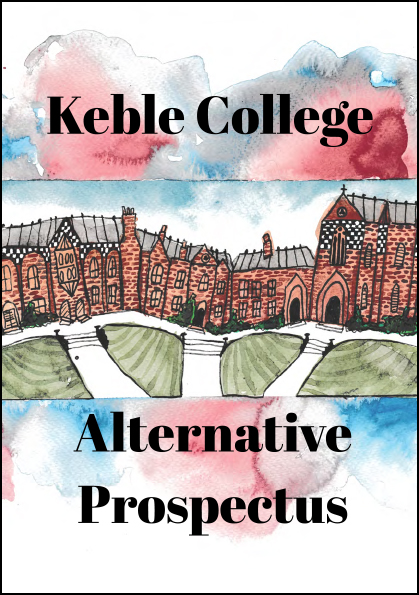 Events for Students
We are running four Year 12 Subject Taster Days at Keble during May and July. These immersive, academically-focused events are designed to support state school students in making informed decisions about their studies. Taster Days in Theology, Law, English, and Geography will offer information about the courses; insight into research, teaching, and career progression; hands-on application advice; and the opportunity to meet Keble tutors and students who share your interests.
For more information, please visit this page. Please note that the deadline for applications for all Subject Taster Days has now passed: places have now been allocated, and no further applications can be considered.
Our annual Theology Essay Competition is now accepting entries until Friday 10th June, and is open to all students at UK schools and colleges within two years of university study. Entrants can choose one of five essay questions and do not need to be studying for a formal qualification in Theology/Religious Studies. For more information and an application form, see our Theology subject page.
We are running a series of Admissions Webinars this summer, open to prospective applicants from any UK state school or college. These sessions are designed to give advice and guidance on elements of the application process and how to prepare for them, including the opportunity to have your questions answered by our Access & Outreach team. Some sessions are offered more than once to allow more people to take part. The full schedule and registration form can be found here. A session for parents, carers, and others supporting prospective students has also been organised as part of this series: more information and a registration form can be found here. (Please note that the same eligibility criteria as for the student webinars apply.)
Events for Teachers
Please visit this page to learn more about events and resources designed especially for those who support and encourage applicants to Oxford. At Keble we enjoy collaborating with other colleges, and hosted a successful virtual teachers' conference alongside Oriel and University Colleges.
Open Days
There are three Open Days each year – coinciding with the whole University – when you can discover more about Keble, get tours from our current students and meet tutors at subject sessions. In 2022 the dates are:
Wednesday 29 June

Thursday 30 June

Friday 16 September
Open Day Timetables: Summer 2022
Keble will run a slightly different timetable on 29th & 30th June. On both dates, the college will be open 09:00-17:00. Current students will be available to show you around and answer questions, and there will be the opportunity to hear from academic and admissions staff.
A free lunch is available to visitors in the dining hall on both dates on a first come, first served basis. We don't require pre-booking for any of our sessions: only for accommodation (see below).
29th June Timetable
| | |
| --- | --- |
| Time | Session |
| 13:15-14:15 | Admissions talk |
| 15:15-16:00 | Life in college panel discussion |
30th June Timetable
| | |
| --- | --- |
| Time | Session |
| 09:00-09:45 | Admissions talk |
| 13:15-14:15 | Meet the tutors: for prospective applicants only |
| 13:15-14:15 | Admissions talk for parents, carers, and teachers |
| 15:00-16:00 | Demonstration interviews: Arts/Humanities and STEM running concurrently |
We offer financial support for young people who want to attend an Open Day but are worried about the cost of getting to Oxford. Prospective students are able to apply to our Open Day Travel Scheme to have journeys to the Oxford Open Days by public transport reimbursed by the college. The application form for this scheme can be found here.
We also offer accommodation free of charge for prospective applicants travelling long distances. This is available on the night of 29th June for individual prospective students and school groups of up to ten students, plus 2 members of staff (group bookings are open to state schools only). We are unfortunately unable to offer accommodation to parents, or other family members and supporters, unless attending as a carer for the prospective student (e.g. in the case of a disability).
Request Open Day accommodation as an individual prospective student
Request Open Day accommodation for a group from a state school/college
Our Open Day prospectus brochure is available here (pdf).
Access and Outreach Events
Keble reinstated its popular visits to Oxford for state schools and colleges in its link areas in April 2022. We are currently fully booked for the summer term, but are continuing to offer virtual talks, webinars, and other sessions for eligible schools, and are also accepting bookings for autumn term visits. (Please note that Keble link areas are given priority for these visits.) Due to the demand we receive for these visits, we operate booking windows for the autumn, spring, and summer terms. We recommend that all school visits are booked around six months in advance.
If you would like to find out more about any of these events or to join our link schools mailing list, please send an email to outreach@keble.ox.ac.uk.
School students aged 13+ can now chat online directly to our student ambassadors using a safe and monitored platform.