Music at Keble
The Choir and Beyond
The College Chapel is perhaps the grandest ecclesiastical space in Oxford. Its resonant, cathedral-like acoustic is much in demand for concerts and recordings, and is home to a lively and active music foundation in which the Chapel Choir plays a primary role. It is also the main focal point for regular concerts promoted by the student-run Keble College Music Society, organ recitals, and the annual Keble Early Music Festival which takes place each February.
The Chapel Choir during Covid-19
Choral services, albeit in reduced form, have continued throughout recent lockdowns and are now being livestreamed. These can be found at the Chapel's YouTube channel, together with a number of other videos reflecting chapel life at this time.
Our Trinity 2020 Leavers' Service included a performance recorded by individual choirmembers from isolation of Paul Brough's own setting of 'Tantum ergo'.  A PDF copy of this setting is available here. 
The Choir was also able to join together in the ether to wish Keble a Happy 150th Birthday. 
Keble College Chapel Choir
Singing with Keble College Chapel Choir provides a unique and varied musical experience, and a solid choral grounding for life. The choir consists of approximately twenty-five undergraduates and postgraduates, and some are students at other colleges.
The College offers a number of Choral and Organ scholarships. Organ scholarship applicants must apply to read Music, although choral scholars read a wide range of subjects, including Music. Choral award holders all receive regular vocal tuition and participate in masterclasses with distinguished singers and coaches, and organ scholars benefit from instrumental, conducting and vocal tuition. A number of our recent scholars have gone on to sing with groups such as Genesis Sixteen and the Voces8 Scholars, and are beginning to develop their freelance careers. The choir also offers a number of graduate places, including paid positions as Lay Clerks and Graduate Choral Assistants. All places for 2021-22 are currently filled, but the choir welcomes enquiries relating to future years, or from those interested in joining the deputy list. For more information please contact music@keble.ox.ac.uk.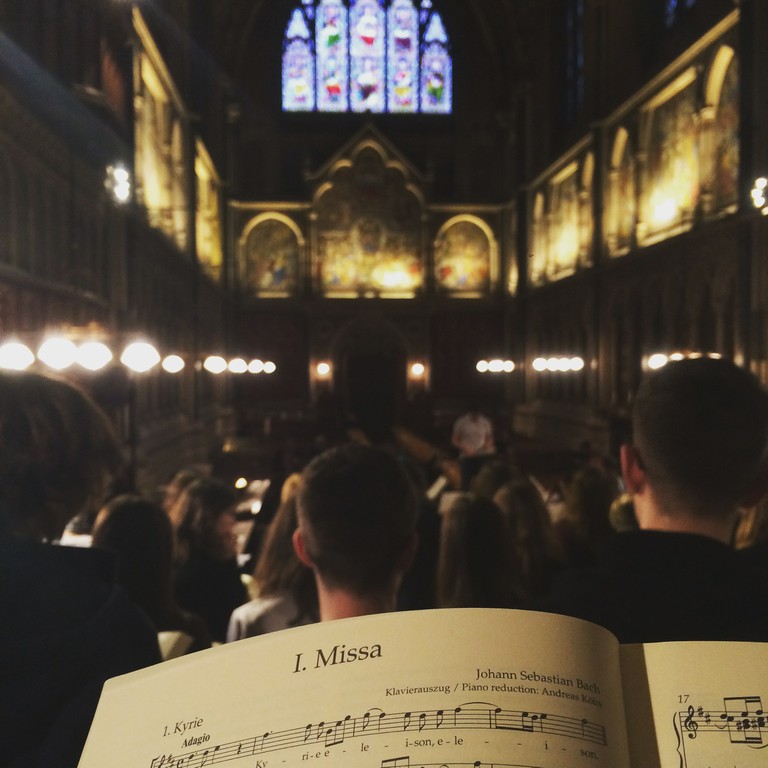 "Lively and convincing…excellently performed" (Choir & Organ, May 2018)
Keble College Choir on Facebook
The main function of the choir is to sing the weekly services in addition to special events such as the Christmas Services and College feasts.
During Full Term the choir sings three choral services per week: Sung Eucharist on Sunday at 5.30pm followed by Formal Hall, Evensong on Wednesdays at 6pm, and Sung Compline on Thursdays at 9pm. The choir rehearses every Thursday from 5.15-6.45pm. Then there are additional services during the course of the year, plus involvement in various College events, particularly at Christmas.
We regularly undertake tours abroad, as well as concerts within the UK. In the past few years we have travelled to Hong Kong and Singapore – to sing at the Oxford/Asia 2017 Alumni Weekend – as well as to the Czech Republic, France and Sweden. A scheduled performance at Saint Thomas Church, Fifth Avenue, New York City in April 2020 has regrettably had to be postponed. Closer to home, we featured in the 2018 Cheltenham International Festival of Music, singing a concert which included Duruflé's Requiem, and will return to the Edington Arts Festival in December 2021.
The choir has broadcast regularly on BBC Radio 3, most recently two Choral Evensongs in November 2019 and February 2020.
Our two most recent CD recordings are 'Ave Rex Angelorum', a sequence of music tracing the journey from Christ the King to Epiphany, and a collaboration with the Academy of Ancient Music on the first recording of Francisco Valls' forgotten Missa Regalis, not performed for over 200 years; this was described on BBC Record Review as 'a really confident performance, and a splendid recording'.