Facilities and Accommodation
A home for Graduates
Keble is trying something different at the University of Oxford. We're combining the best features of a mixed undergraduate-graduate college with the benefits of a graduate-only college. Our graduates have access to the new H B Allen Centre as well as the facilities on the main site.
The H B Allen Centre is four minutes' walk from the main Parks Road site. It has space for 230 full-time graduates – mostly in self-contained flats with communal kitchen diners – plus short-stay accommodation for up to 22 part-time graduates. There are two large common rooms, a café, gym, laundry facilities and an onsite Porters Lodge open 24 hours a day. The rooms and facilities are grouped around a landscaped quad in the Oxford style.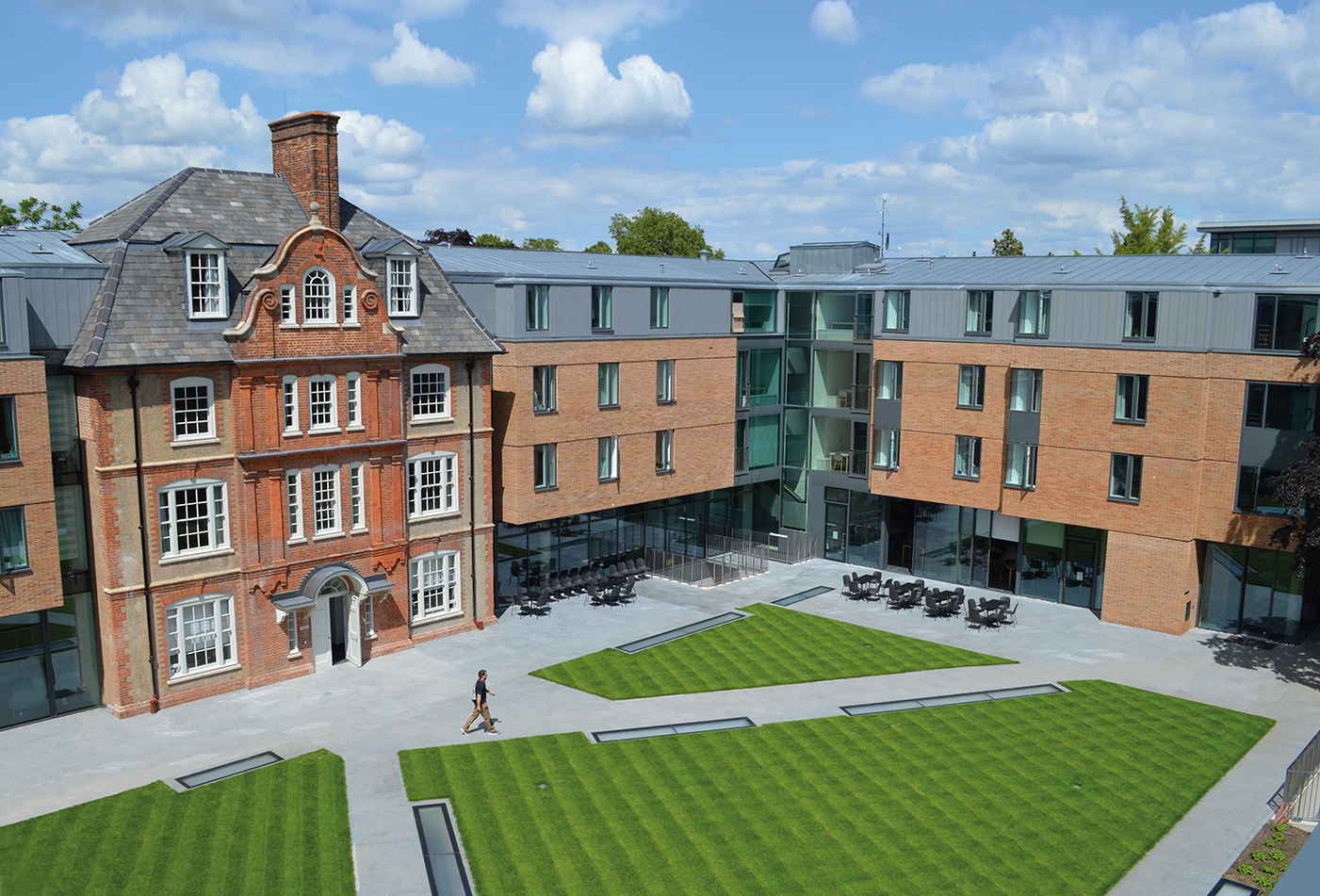 The quad at The H B Allen Centre
At the core of the Parks Road site are the Victorian buildings in unforgettable polychromatic brick. More modern additions provide accommodation for our undergraduates, as well, as teaching rooms. There you'll find the magnificent dining Hall (the longest in Oxford), Library (open 24/7), the student-run O'Reilly theatre, café, bar, gym, music room and another graduate common room.
We encourage our students to stay – or get – active. In addition to the gyms, we have a sports ground 20 minutes' to the north (for tennis, football and cricket) and the University Parks opposite (for rugby, more tennis and jogging). We share a squash court off-site. We have two boat houses, one on the banks of the Isis (Thames) in amongst the main college boathouses, and another on the Isis at Godstow. There are opportunities for novices to begin rowing in eights.
In addition, you can make use of the University's sports facilities, many of which are located at the Iffley road site 15 minutes from Keble.
Accommodation
We know that, especially for graduates coming to Oxford or the UK for the first time, sorting out somewhere to live is vital. Subject to availability, we aim to offer accommodation in College to all starting graduates, all second years and thereafter some third and fourth year graduates. You can choose to live out of College too.
Our accommodation for graduates is in The H B Allen Centre. All rooms are ensuite (with the exception of two sets of rooms which each can either be let as a 2-room apartment or as two single rooms with shared facilities). 67 rooms are self-contained studio apartments with their own kitchenettes: the rest of the accommodation is organised in flats of between 5 and 8 study-bedrooms, each flat having its own kitchen/dining room. All rooms have a double-bed, workspace, sitting area and storage facilities.
All rooms are wheelchair accessible and 13 are configured for use by residents with a disability. Full information on facilities and resources for students with disabilities can be found in our Guide for Disabled Students (pdf). The shared ensuite rooms and 16 of the studio rooms can be linked to form 2-room apartments for partnered accommodation, but the Centre is not able to provide accommodation for children.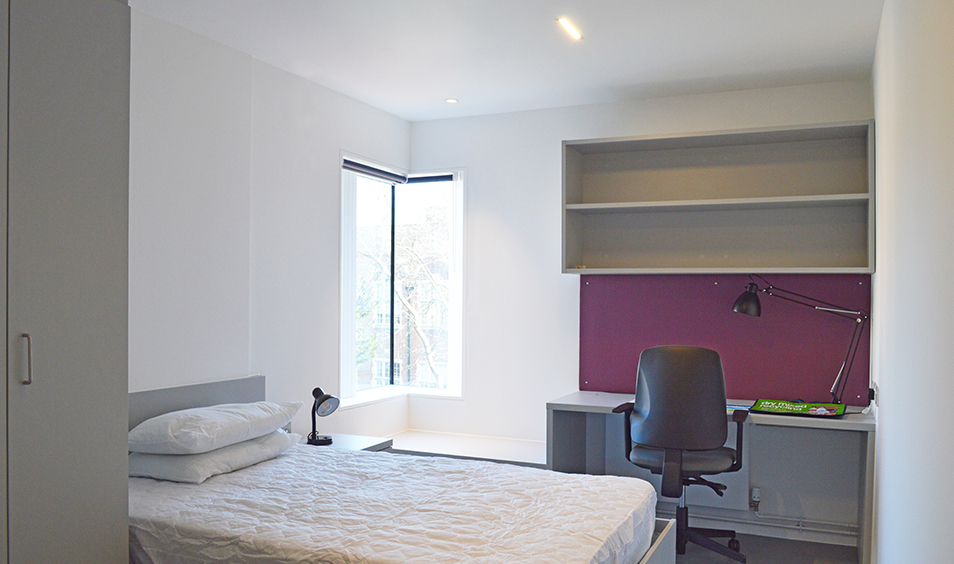 A room at The H B Allen Centre 
Rooms are available to full-time students on either a 9-month or a 12-month tenancy, and if you opt for a 9-month tenancy you may extend your contract for up to a further three months in order to fit in with the requirements of your course, subject to availability and provided sufficient notice is given.
If you're thinking of coming to Keble, we recommend that you check on the room situation with the Accommodation team when you apply. Rooms for incoming graduates are allocated by the Manager, though you will be invited to express a preference for type of room. Second, third and fourth-year students choose their room by a ballot system operated by the Middle Common Room.
Details of rent and other charges can be found in our Financial Guide (pdf).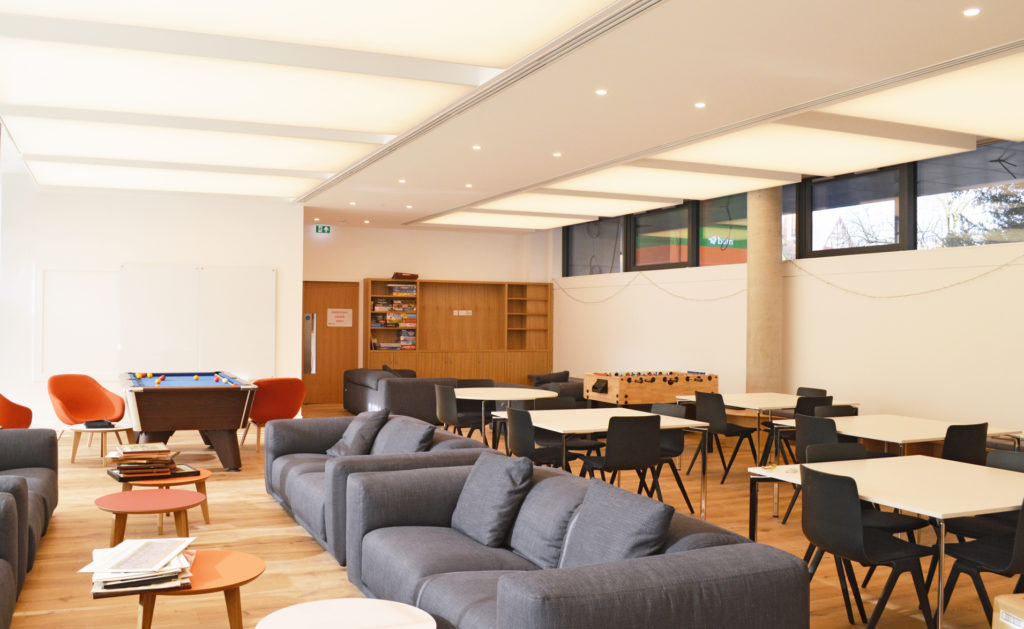 The Common Room at The H B Allen Centre
Part-time modular courses
The College aims to offer accommodation at the Centre to all graduate students on part-time modular courses for all the time that they are required to be in Oxford. To be sure of a room at the Centre, students are encouraged to reserve accommodation annually in advance by contacting the Accommodation team. Bookings are available for Sunday night to Friday night inclusive in each week of Oxford coursework, and students may book additional nights at either end of a residential week (or, indeed, at any other time), subject to availability. The current rate per night is £70.
If two cohorts of graduates on modular part-time courses are in Oxford in the same week, one of them may have to make alternative arrangements, although during July, August and September it may sometimes be possible to accommodate both cohorts. The College intends to plan admissions for modular courses so as to avoid such clashes as far as possible. Any potential accommodation problem would be identified well in advance and we would seek to resolve it in a way that is fair to all.
Food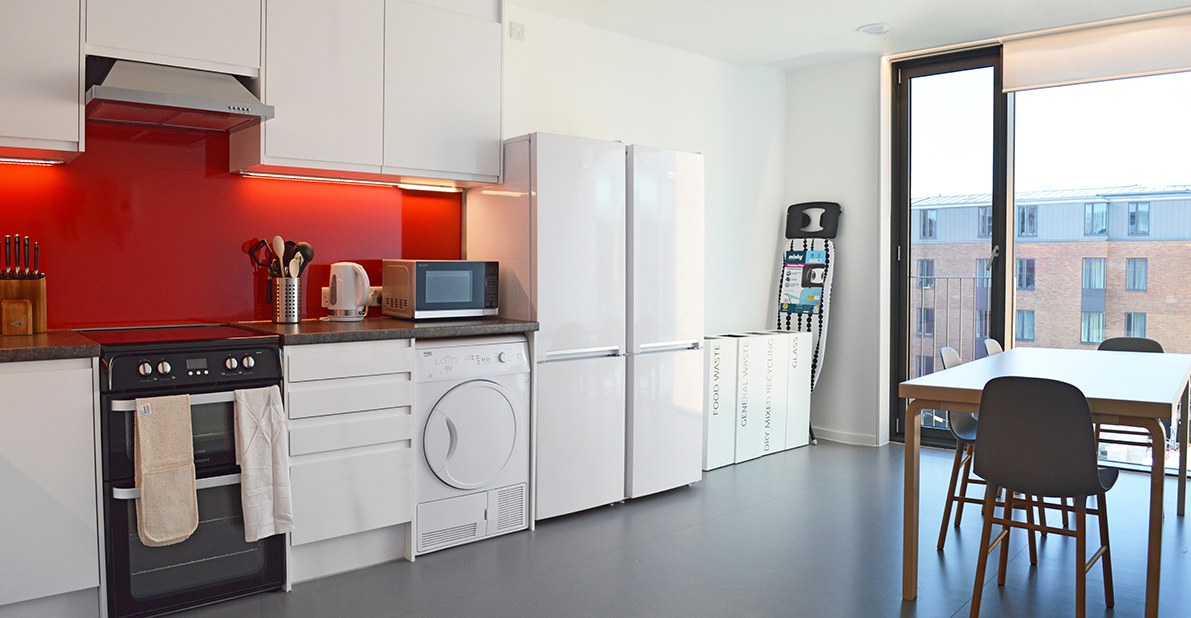 A shared kitchen
In addition to the study-bedroom kitchen facilities, The H B Allen Centre has a cafe serving coffee, snacks and light meals. Breakfast, lunch and dinner are also available in the main College Hall on the Parks Road site. There are no set breakfast, brunch, lunch or informal dinner charges – each item is charged individually. View our Financial Guide (pdf) for full details of meal cost.
Key Information Set (KIS)
Daily / weekly average room rate for graduates, including utilities and services: £24.83
Most common length of graduate contract in days: 273
You can expect meal costs to be in the following order:
(i) Breakfast £3.04
(ii) Lunch £5.07
(iii) Dinner £5.80