Tuesday 25 April 2023
First Keble Association Arts Leadership Awards
On Sunday, at our annual St Mark's dinner, we were delighted to present the first Keble Association Arts Leadership Awards.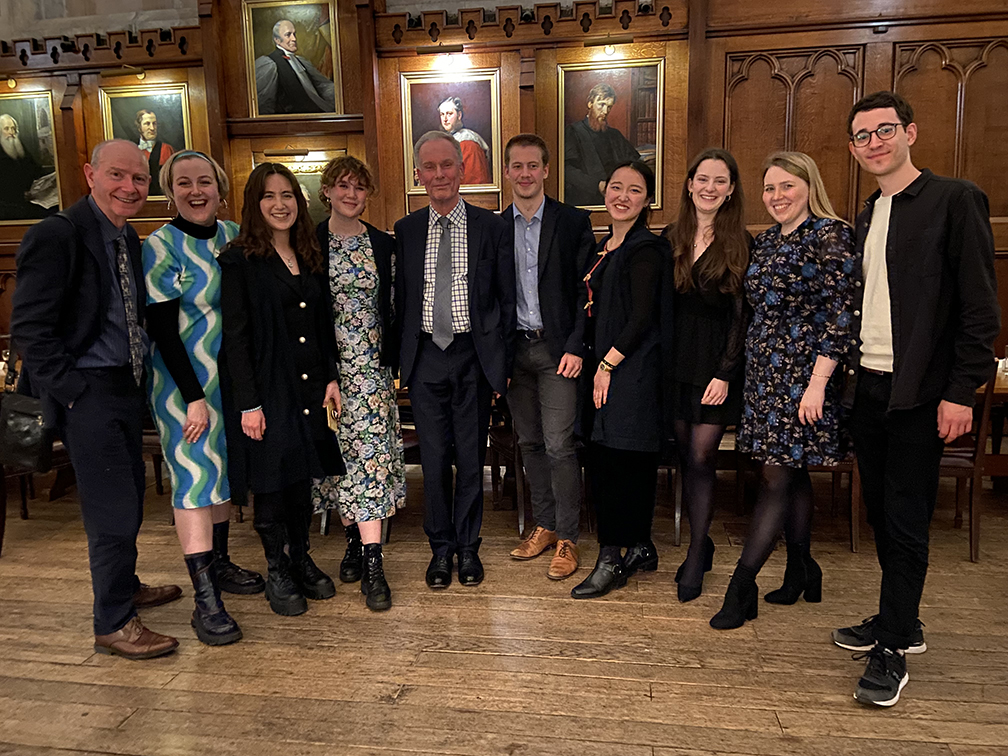 Photo (l-r): Joe Treasure, Panel Member; Ell Potter, Panel Member; Eugenie Dalgleish, Award Winner; Eleanor Dunlop, Award Winner; Mike Fawcett, Donor and Panel Member; Ashley Turner, Award Winner; Nadja Yang, Award Winner; Alessandra Martorana, Panel Chair; Katrina Fox, Panel Member and Jacob Ewens, Panel Member.
Made possible through generous funding from Keble alumnus Mike Fawcett (1972, Literae Humaniores), the awards recognise and celebrate artistic excellence and leadership — students who are initiators, innovators and doers.
The judging panel, made up of Keble Alumni — Ell Potter (2014, English Language and Literature), Joe Treasure (1974, English), Katrina Fox (2018, History of Art and Visual Culture), Jacobs Ewens (2013, Music), Mike Fawcett (1972, Literae Humaniores), Alessandra Martorana (2015, Geography) and Barney Norris (2006, English) — emphasised that all the applications received set a high bar and the winners exemplified outstanding artistic achievements and leadership.
The 2023 winners were:
Eugenie Dalgleish (2022, Music) is a violinist who has shown exceptional commitment and initiative in learning, with her sister, a new violin duet every day since the first Covid lockdown over three years ago. Publishing each duet on Instagram (@twoviolinsisters), she has raised funds for the National Emergencies Trust Coronavirus Appeal. She also posts daily tips to over 16,000 Instagram (@eugeniedalgleishviolin) followers on how to practice the violin; and has TikTok and YouTube accounts on her daily life as an Oxford University student.
Eleanor Dunlop's (2020, English Language and Literature) achievements in the theatre include acting, singing, writing and as marketing manager. Over the last two terms she has performed in a completely sold-out play at the Pitt Rivers Museum, and in a well-received musical in the O'Reilly, and has contributed as marketing manager and script advisor to a new piece of original student writing. She has emphasised inclusion, both in the diversity of the performers and in making theatre available to audience members with neurodivergence or disabilities.
Ashley Turner (2020, Economics and Management) is an accomplished jazz saxophonist. As well as exploring his own musical interests in small groups, including his quintet Woodshed, he has served the needs of the wider student community as Musical Director of the University Jazz Orchestra. His role at OUJO includes organising the band's repertoire, auditioning, planning and conducting weekly rehearsals, and compering and leading gigs, while keeping all the players motivated and overcoming problems and emergencies. For videos see https://www.youtube.com/@ashleyturner7986/videos
Nadja Yang (2020, Engineering Science) is the founder and first president of the University's Oxford Phoenox Chinese Dance Society. Over the last two terms she has promoted the society, increasing membership, participation and team bonding; and she has led the planning, rehearsal and performance of a large-scale Chinese dance piece (attracting an audience of over 800), including playing a part in the choreography and performing a solo dance. See Instagram @nadja.yang and @phoenox.dance.