Wednesday 29 March 2023
Keble Students Part of Varsity Rugby Match Winning Squad
On 25 March 2023, the Oxford v Cambridge annual Varsity Rugby Matches took place at Twickenham Stadium, London, where both men's and women's fixtures have shared the turf since 2015.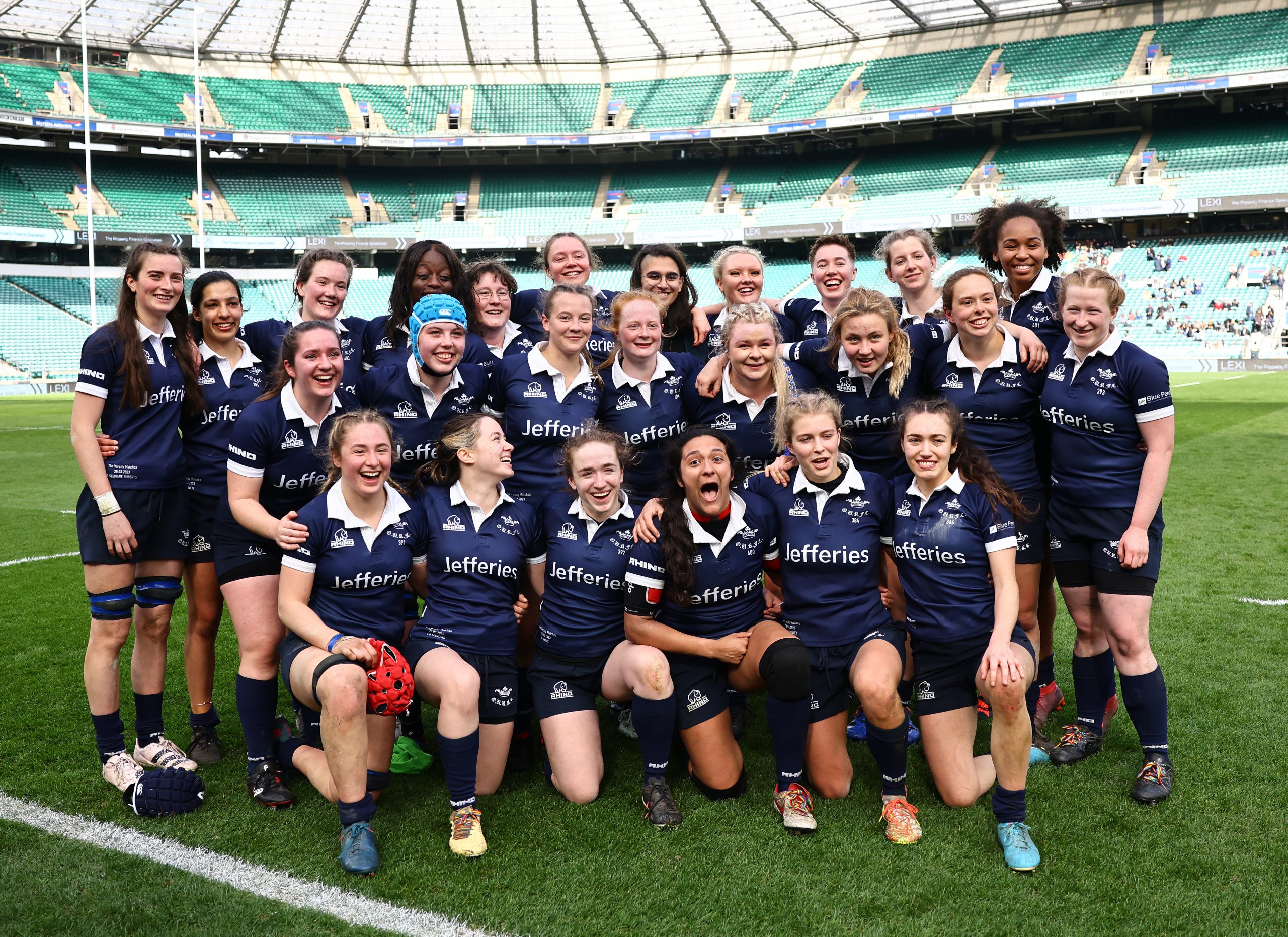 Keble students Tolu Duckworth (2019) back row fourth left – right, and Alex Wilkinson (2022) middle row fourth left – right. © Matthew Impey / Wired Photos. Picture by David Klein. 
Keble students Alex Wilkinson (2022) and Tolu Duckworth (2019) played for the OURFC women, who defeated Cambridge 31-12, including a try from Alex in the 51st minute. The Dark Blues ended the day with mixed fortunes – the men's 15-10 defeat tempered by a very strong women's performance. The match became the 161st inductee into the World Rugby Hall of Fame.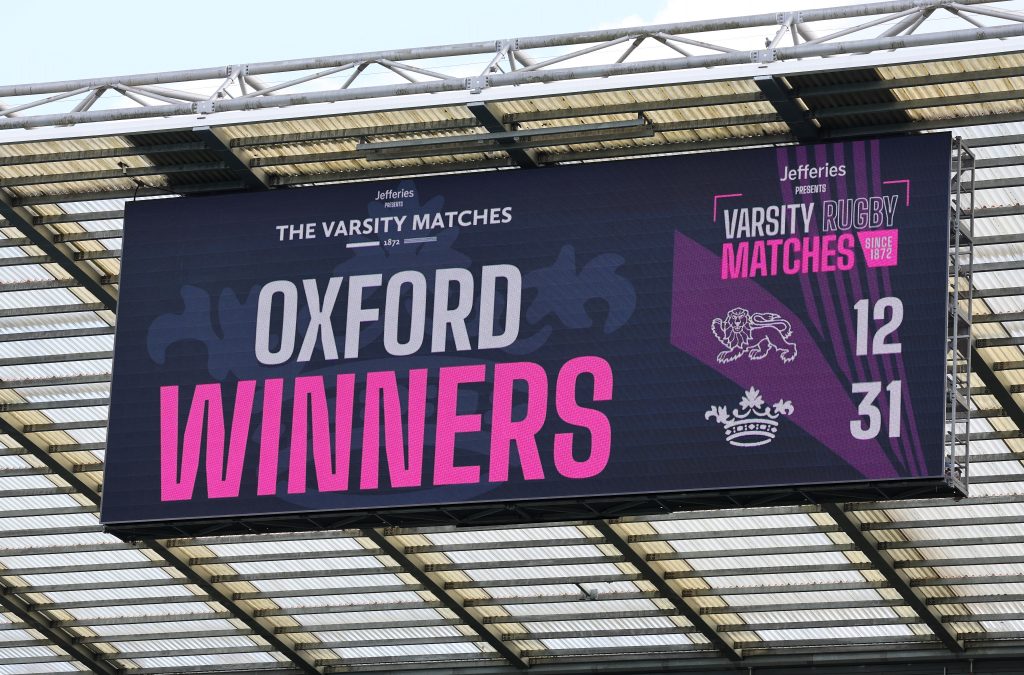 © Matthew Impey / Wired Photos. Picture by David Klein 
Tim Stevens, the OURFC General Manager explains the overall outcome of the match:
"The Women's team took to the field as favourites having already beaten their opponents twice this season. Although things didn't click in the first 40 minutes, with Dark Blues trailing 12 points to 5 at half-time and Oxford only pointing a try from scrum-half Alex Wilkinson (Keble), the second half saw the true Dark Blue team emerge from the tunnel and score 26 unanswered points. Player of the Match, full-back Clodagh Holmes (University) led the way with no less than four second half tries!
Captain Lauren Webb (Corpus Christi) in the back row, was once again a heroic leader, working tirelessly for 80 minutes in both attack and defence to deservedly lift the Trophy at full time."
Alex Wilkinson said; "Twickenham, as the home of rugby, is an honour to be able to play at. Despite a slow start, the team showed the calibre of rugby we are capable of playing in the second half and I am proud to call each of them my teammates following the culmination of such an exciting and successful season."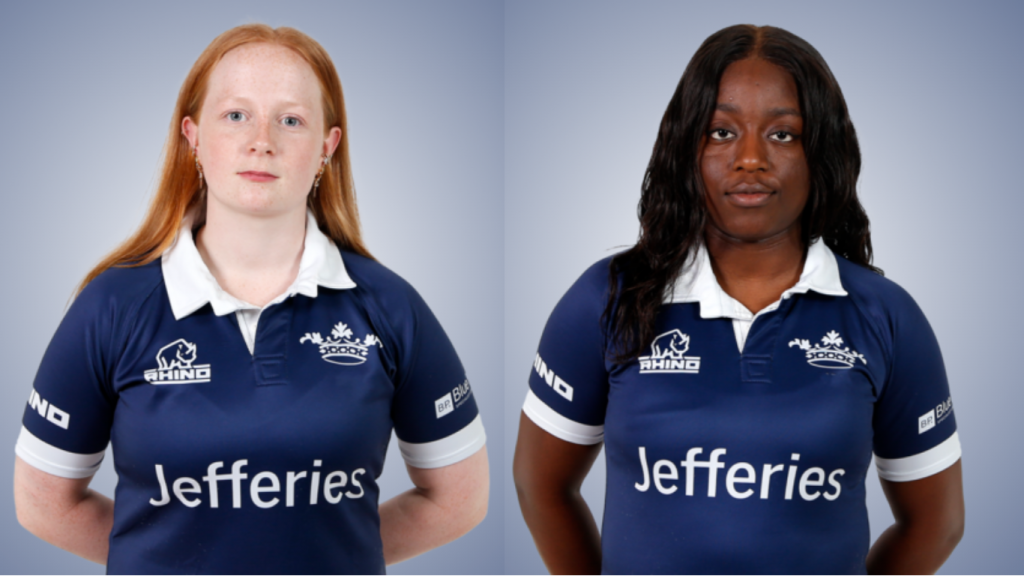 Alex Wilkinson (left) and Tolu Duckworth (right)
We spoke to Tolu Duckworth about her experience playing for OURFC at Twickenham.
Tolu first picked up a rugby ball in October after her friend who was on the Blues squad encouraged her to go to one of the Beginners' sessions. Tolu "ended up really enjoying those sessions and stuck around. I guess you can imagine how intense preparing for the match was given that my time playing rugby has been less than 6 months. Plus, I was called up to the Blues just a little over a month ago so had to balance learning the rules to the game with getting to know the team."
"Varsity weekend was actually my first time at Twickenham. I think it's incredibly cool that I get to say that my first time at the stadium was to play a game. You don't hear that very often. I'm still wrapping my head around the game because I never envisioned myself getting this far in such a short space of time."
She explains how "the team did incredibly, and all those hours spent at Iffley paid off. It was great seeing our lineout calls in action, and our attack formation in play because it was something the team had been working on all season. Winning definitely made all those back-and-forth trips from my clinical placements to Oxford for training worth it in the end."
Tolu has now set her sights on developing her skills in preparation for pre-season and next season. "I'm still new to the game so just can't wait to see how much more I grow. Plus, I'm looking forward to working on being responsible for fewer knock-ons."
We are proud of the Oxford team and our students for their sporting performance at Twickenham and hope to see them representing the University in upcoming matches.