Thursday 3 October 2019
The Duke of Cambridge opens The H B Allen Centre
His Royal Highness The Duke of Cambridge visited Oxford on 3rd October to officially open Keble's new H B Allen Centre.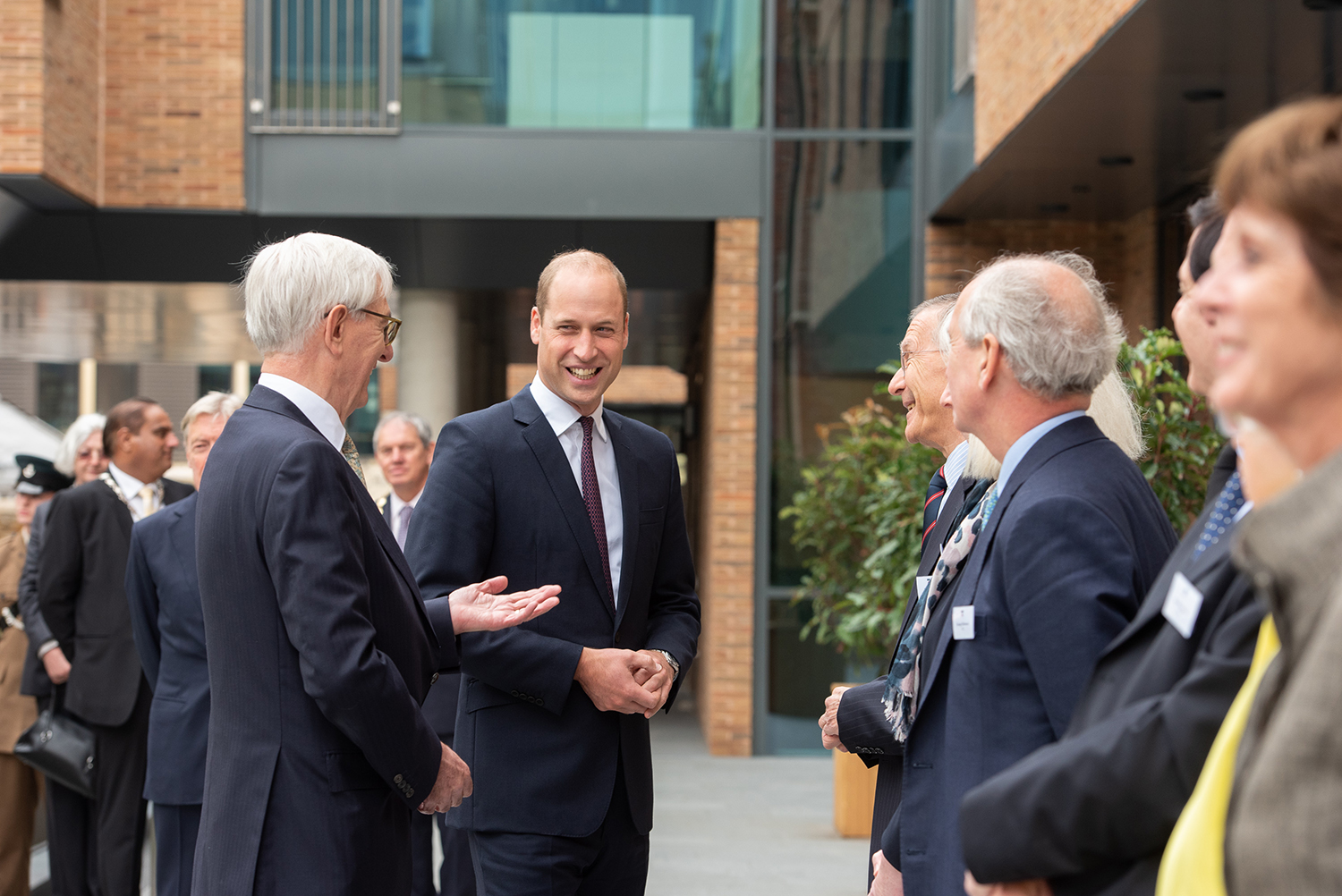 Commenting on the visit, the Warden, Sir Jonathan Phillips, said that he was delighted to welcome The Duke to the College as Keble enters its 150th anniversary year. "The Centre signals a new chapter in our history, offering outstanding accommodation for our growing community of graduate students and providing state of the art facilities to support research and spinout activities."
The Duke toured the Centre, accompanied by Sir Jonathan and Oxford University Vice-Chancellor Professor Louise Richardson. He met with staff, students, major donors, and key members of the project teams responsible for the construction of the site, including MICA Architects, BAM Construction and Bidwells Property Consultants.
The tour also included demonstrations of cutting-edge technology by H B Allen Centre tenants Oxford Sciences Innovation (OSI), a key driver of the development of Oxford University's spinouts, and the Oxford Robotics Institute (ORI), which is developing and applying mobile robotics technology. OSI showcased two of their spinout companies, Oxford VR and Oxford Quantum Circuits, presenting how virtual reality can be used in mental health treatment and the game-changing potential of quantum technology. The ORI team displayed three of their robots, giving The Duke the opportunity to interact with them. The visit concluded with HRH unveiling a plaque commemorating the occasion.
The H B Allen Centre has rooms for 230 full and part-time students with exceptional supporting facilities designed by award-winning architect, the late Rick Mather (now MICA architects). This recognises the continuing growth in the number of graduate students at Oxford. It is located immediately to the east of the Radcliffe Observatory Quarter, which includes the Mathematical Institute, the Blavatnik School of Government, and the recently announced Stephen A Schwarzman Centre for the Humanities.
The Centre is named in honour of Miss Heather Barbara Allen, founder of The H B Allen Charitable Trust. Miss Allen, who died in 2005, was a philanthropist with multiple interests. The Trustees thought it appropriate to make a landmark grant that would stand as a fitting and enduring memorial to her philanthropy.
More information about The H B Allen Centre is available on our Anniversary microsite.