Poetry at Keble
Salutation & Cat Reading Group
"That Sonnet, Coleridge, brings afresh to my mind the time …
in that nice little smoky room at the Salutation and Cat, which is even now continually presenting itself to my recollection, with all its associated train of pipes, tobacco, Egghot, welch Rabbits, metaphysics and Poetry"
— Charles Lamb to Samuel Taylor Coleridge (1 December 1796)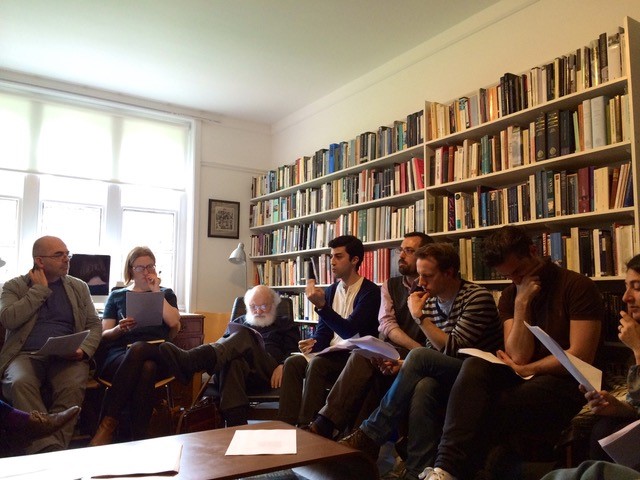 Geoffrey Hill taking part in conversations at the Salutation & Cat
(photo by Jonathan Galassi)
A reading group for all those interested in poetry, metaphysics, egghot, rabbits, and anything else that might come up in conversation.
Convenors/Salutationists: Professor Matt Bevis and Dr Erica McAlpine.
We meet on Thursdays from 5-6:30pm in weeks 2, 4, 6, and 8 of every term.
We talk about a handful of poems to see what happens.
Poems (on a particular object, topic, or idea) will be announced in advance. If you would like copies of the poems, please email Matt (matthew.bevis@ell.ox.ac.uk) or Erica (erica.mcalpine@seh.ox.ac.uk)
Anybody is welcome to attend (staff or student, from any subject)
Past Subjects
➤On the Train (doc)
➤On Dogs (doc)
➤On It (doc)
➤On School (doc)
➤On Eyes (doc)
➤On Fruit (doc)
➤On Blue (doc)
➤On Nothing (doc)
➤On the Street (doc)
➤On Aftermaths (doc)
➤On Forgetting (doc)
➤On the Move (doc)
➤On Wonder (doc)
➤On the Way (doc)
➤On Help (doc)
➤On Happiness (doc)
➤On Gifts (doc)
➤On Revision (doc)
➤On Waste (doc)
➤On Tides (doc)
➤On Seconds (doc)
➤On Meals (doc)
➤On the Fool (doc)
➤On Stars (doc)
➤On Deathbeds (doc)
➤On Toys (doc)
➤On the Beach (doc)
➤On Veils (doc)
➤On Trees (doc)
➤On Waiting (doc)
➤On Things (doc)
➤On the Ocean (doc)
➤On Owls (doc)
➤On Windows (doc)
➤On Spiders (doc)
➤On Secrets (doc)
➤On Hands (doc)
➤On Horses (doc)
➤On Echoes (doc)
➤On Distraction (doc)
➤On Silence (doc)
➤On Dancing (doc)
➤On Laughter (doc)
➤On Tulips (doc)
➤On Guilt (doc)
➤On Frogs (pdf)
➤On Dresses (doc)
➤On Bats (doc)
➤On the Body (doc)
➤On the Ground (doc)
➤On Fathers and Sons (doc)
➤On Snails (doc)
➤On the Momentary (doc)
➤On Snow (doc)
➤On Gold (doc)
➤On Rivers (doc)
➤On Doors (doc)
➤On Luck (doc)
➤On Beauty (doc)
➤On Balloons (doc)
➤On Fire (doc)
➤On Home (doc)
➤On Shadows (doc)
➤On Error (doc)
➤On Eggs (doc)
➤On Swans (doc)
➤On Mirrors (doc)
➤On Elsewheres (doc)
➤On Reading (doc)
➤On Walls (doc)
➤On Goodbyes (doc)
➤On Fields (doc)
➤On Lies (doc)
➤On the Moon (doc)
➤On Risk (doc)
➤On Birthdays (doc)
➤On Rooms (doc)
➤On Rain (doc)
➤On Loss (doc)
➤On Boats (doc)
➤On Letters (doc)
➤On Waking (doc)
➤On Fish (doc)
➤On Things Unseen (doc)
➤On the Gazer's Spirit (doc)
➤On Lives Unlived (doc)
➤On Flowers (doc)
➤On Washing (doc)
➤On Names (doc)
➤On Wells (doc)